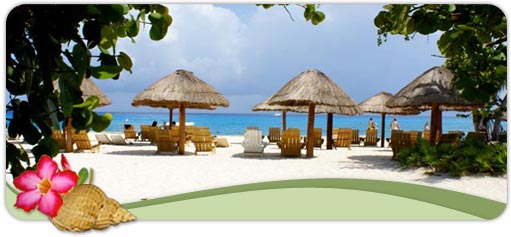 Cozumel
, the Mexican island, is a beautiful tourist destination of the Mexican Caribbean, and a place full of impressive natural beauty. The Great Maya Reef runs paralleled to its coasts, it is the second world largest coral barrier, and this is one of the reasons why Cozumel is a paradise for scuba divers, who come from all corners of the world to enjoy the bewitching submarine wealth.
When submerging into Cozumel undersea you will watch in awe from bright-colored schools of tropical fish, to tender sea turtles with their young and even some cat sharks that inhabit these waters. Cozumel has many attractions for family vacations or romantic escapades. Of course, scuba diving and snorkel in famous places visited in the past by Jacques Cousteau, the French oceanographer, who baptized one of these reefs as "The Paradise".



In land, you can go shopping, from an original handcraft souvenir made by Mexican local artisans, to a luxurious jewel with a unique gem, like tanzanite or Larimar, or maybe a delicious perfume. Enjoy golf and spas and feel yourself like a king. Maya culture and archaeology are presents at El Cedral and San Gervasio, small but interesting Mayan vestiges.


This is only a brief orientation about all the wonders you can find here, but you must come and discover yourself all that Cozumel has to give to a family vacation, a honeymoon, for groups and for the cruisers that comes every year to this beautiful port of call.




| | |
| --- | --- |
| | Bottlenose dolphins have a highly developed audio cortex of the brain. This evolutionary development allows them to use echolocation to communicate, find prey, and orient themselves in their three dimensional environment. |




| | |
| --- | --- |
| | For your convenience, bring with you a travel-size mosquito repellent, along with your toiletry items (shampoo, shaving gear, deodorant, tooth brush and paste, etc.). |
This is, undoubtedly, the most famous of Dolphin programs and can be summarized in two words: action and speed.

More info [+]
This program was created especially for you and the dolphin to share a series of sensational and safe activities while establishing a unique bond of trust.

More info [+]
A non swimmer favorite for all ages; learn, hold them, watch their amazing tricks, get a serenade and a splash... and seal the friendship with a kiss.

More info [+]